The Bonsai Book, by Dan Barton, is without a doubt one of the most important books on the topic ever written. Is easy to read, have a very explanative style and is complemented with great illustrations.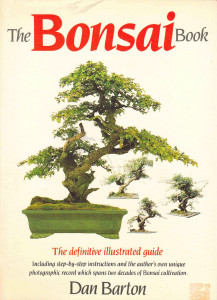 The Bonsai Book: An essential guide
Since we know that many of our readers don't live in the US, we usually recommend guides that are made as eBooks that can be bought and downloaded from anywhere in the world. We believe there's a big value on them because they usually contain videos and an open line, by email, with their authors so you can ask them directly all your queries. However there are classic printed books that all bonsai enthusiast should have, The Bonsai Book by Dan Barton is one of them.
If you're new on the art of bonsai and want a complete guide with every detail on the topic then this is the book you're looking for. Also, if you know of somebody who's interested in learning, The Bonsai Book will be an awesome gift.
The Bonsai Book contains the facts, the steps and the keys: From seeding to training, from caring to styling. It goes directly to the point. If you're a bonsai veteran you probably know about this book, if you don't you should take a look at it. For beginners this book will be a great starting point to become a real pro.
There are way too many books on bonsai; most of them end up partially explaining this millenary and complex art. The Bonsai Book is one of the most complete options out there. Even though is an old book, still pretty well known. Remember, these recommendations are based on the fact that even though there's plenty of information on the internet, you should always get a book to support you. If you really want a printed book, this should be your first choice.
You can buy this book on Amazon by clicking here. Trust me, you won't regret it.