The other day I asked on many bonsai forums which were the books on bonsai with the greatest pictures. I have a few but I'm tired of looking at them and I was searching for some new ones. Not only to check them out myself but for decorative purposes on my living room. I was looking for a typical bonsai enthusiast coffee table book.
During my research I made it very clear that I was searching for a book with great photos of bonsais, meaning that I wasn't interested in a book on learning about bonsai, with plenty of text (I have already many of those and I have reviewed my favorites in this blog). So after many answers I realize there were a few constant recommendations. I picked up the best two. Here they are:

Fine Bonsai: Art & Nature
By William N. Valavanis and Jonathan M. Singer
This astonishing book contains some of the best pictures of bonsai I have ever seen, and I can guarantee you, I'm not exaggerating. Apparently Jonathan Singer, the photographer of the book, had access to some of the most important bonsai collections in Japan and also in America. The authors had the rare opportunity to visit the Omiya Bonsai Village of Saitama in Japan, where making photos is usually forbidden.
Every style and shape and all bonsai species you can think of are in Fine Bonsai: Art & Nature, all brilliantly photographed with special care on details, color and illumination. If you are a true bonsai enthusiast there'll be plenty of well known specimens you'll find in this book. The information about every three shown in this work is very specific. There are some pictures which show the trees real size.
Valanis and Singer, two names that you may have heard before if you're into bonsai, also show many pictures of beautiful pots and other utensils. This is way more than just a decorative book; you'll be amazed by the quality of its pictures. This is my first pick. You can buy Fine Bonsai: Art & Nature by William N. Valanis and Jonathan M. Singer on Amazon by clicking here.
Classic Bonsai of Japan
By Nippon Bonsai Association
My next choice would be Classic Bonsai of Japan by the Nippon Bonsai Association, one of the county's most important organizations in the subject. This book will take you directly to Japan, showing you some of the most important bonsai collections in that nation, some of them never seen by a westerner before.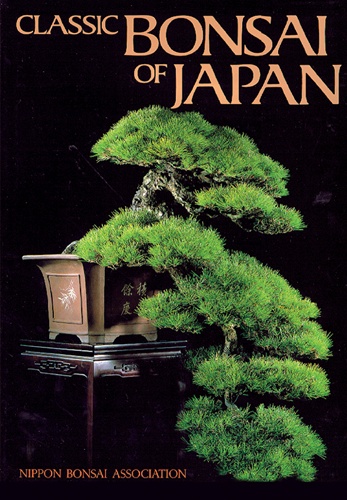 From very young trees to a 1000 year old bonsais, from a beautiful juniper to a exquisite Chinese elm, this book will show you, with great quality, around 125 full color pictures and around 45 black and whites of all the styles and specimens on this millenary art, complemented with great descriptions of every tree, his growing process, techniques used on the bonsai and more.
Classic Bonsai of Japan is a beautiful book that truly shows great pictures of this artistic tradition, with a great presentation. It is a wonderful decoration gadget as well (however, it is possible that if you have guests in your house they'll spend a lot of time taking a look at this book). You can buy Classic Bonsai of Japan by the Nippon Bonsai Association on Amazon by clicking here.