You can buy bonsai trees online right here in our store. We also have tools, seeds and all the accessories you need to grow bonsai trees. There's a variety of species and styles to choose, some easier to grow and care than others. You can buy all the equipment in our store, from pots to fertilizer, and even a kit for starters.
We will show you where you can order all this in the US. We're also searching for the best options in other countries.
We made a selection on the best books about bonsai. All of them can be bought on Amazon. Check them out!
LOW-COST BONSAIS
There are many options when it comes to buy bonsai trees online. There are some affordable choices out there, especially if you're interested in buying a few. Keep in mind that these miniature trees are usually very young.
BEGGINER BONSAI TREES
There are a few options that are recommended for begginers. Here are a some.
INDOOR BONSAIS
These bonsais will do very well indoors even though this is not mandatory.
OUTDOOR BONSAIS
These bonsais should be located outdoors. They'll lose their foliage in autumn and will need a dormant period in winter.
SEEDS
Remember: There are no "special bonsai seeds". However you can buy seeds of plants that, with the right training, will suit perfectly to become a miniature tree.
ACCESSORIES
If you want to buy a bonsai you must get the right tools and equipment. Here you can find all you need to grow and care for your own homemade miniature tree.
TOOLS
Bonsai tools for beginners, enthusiasts and pros.
SOILS
Soil mixes to place your bonsai tree.
FERTILIZER & CHEMICALS
All the items you'll need to fertilize your bonsai.
WATERING CANS
The best equipment to water your bonsai.
POTS
Pots to place your miniature tree.
BOOKS ABOUT BONSAI
If you are going to buy bonsai trees online, you should also get at least one book on the subject. It's very important to have a written and printed guide on growing bonsai, and consult it constantly when in doubt.
We have done a very long research on this matter, and after our investigation we have chosen three wonderful books on bonsai. All of them have a lot of step by step information on how to grow a bonsai tree. They are complemented with amazing graphics and pictures. This books were written by expert gardeners and bonsai growers.
THE BONSAI BOOK BY DAN BARTON
The best book on bonsai is The Bonsai Book by Dan Barton. This is one of the most famous works on the subject and without a doubt the most complete. Everything you need to know is there. You can read our review about The Bonsai Book by Dan Barton here or buy it directly on Amazon by clicking on the image. This is the only book about bonsai on Amazon.com which all reviews give the top qualification of five stars, so our opinion that this is an amazing work is shared by many.
THE COMPLETE BOOK OF BONSAI BY HARRY TOMLINSON
The Complete Book of Bonsai by Harry Tomlinson it's our second recommendation. It is as complete as The Bonsai Book and also very well explained. It has amazing graphic material with plenty of beautiful pictures and images. The Complete Book of Bonsai will provide you with all the info you need to know on bonsai, from its principles, evolution and origins to its styles, techniques and species. Everything you need to know about growing bonsai is there. You can read our review on The Complete Book of Bonsai by Harry Tomlinson here or buy it directly on Amazon by clicking on the image.
Buy The Complete Book of Bonsai on Amazon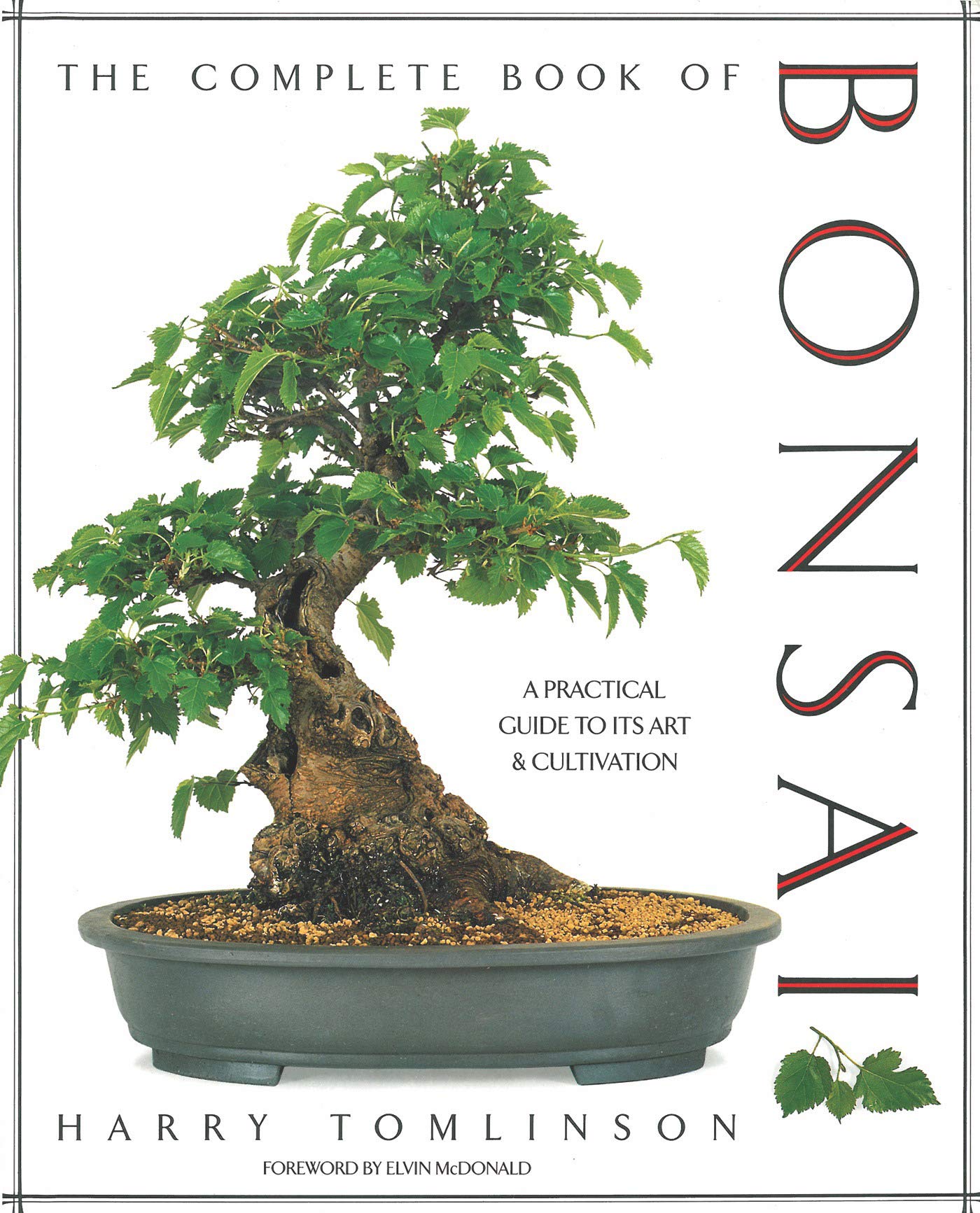 BONSAI FOR BEGINNERS BY KEN NAKAMURA
Bonsai for Beginners by Ken Nakamura is another of our all time favourites. A great book for those who want to try out their bonsai gardening skills and improve. This essential grower's guide explores the history and origins of bonsai trees, as well as how modern information and growing techniques have made bonsai trees and easy and accessible hobby for everyone to enjoy. With step-by-step instructions and plenty of beginner advice, you'll learn how you can grow your first bonsai tree, create the perfect environment for it to flourish, trim it into stunning shapes, and so much more. You can buy it directly on Amazon by clicking on the image.
Buy Bonsai for Begginers on Amazon