101 Essential Tips on Bonsai by Harry Tomlinson is a popular book. This is based on the fact that is very affordable, compact and very useful. It may be the best guide for beginners on the subject, because, make no mistake, this is a perfect book for starters.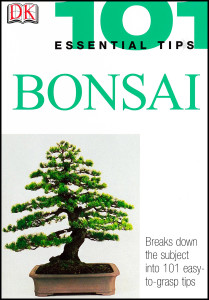 101 Essential Tips on Bonsai: An affordable and condensed guide about bonsai
If you just receive a bonsai and don't know anything about it then 101 Essential Tips on Bonsai by Harry Tomlinson is for you. If you want to start experimenting with this millenary art then this is also a book for you, while you buy your first miniature trees.
101 Essential Tips on Bonsai goes from all stages of the bonsai process, from seeding to caring, from training to styling, from species to styles. It'll show you the most important techniques on this activity in an easy and understandable way. It'll also recommend you the best tools to start.
This is a pocket book, a short and precise work, that won't go too deep on the topic but will tell you exactly what you need to know. If you want to try bonsai as a hobby then 101 Essential Tips on Bonsai may be a good place to start. It's complemented with images and diagrams that will make a lot easier to understand every step of the way.
This book is also a great gift, not too expensive though, for someone who has showed interest on learning about bonsai.
Harry Tomlinson has written a few books on bonsai, they are all alike. This is the cheapest and the most condensed, however has great quality-price relationship.
If you want to buy this book on Amazon click here because is definitely worth a try.   
If you would like to dig deeper on the millenary art of bonsai or buy a more complete guide we have other recommendations on the right side of this page.